An LOLcat is a type of cat that loves to make you laugh. Examples of LOLcats are Longcat, Ceiling Cat, Serious Cat, and Nightmare Kitteh. The ideal goal of an LOLcat is to find themselves a cheezburger, and eat it. LOLcats are known for representing our lives, and how to deal with them. Like humans, they do normal things (e.g. go to their house, learn, and eat).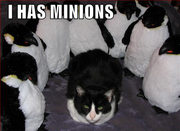 As an LOLcat, one's job is to make you laugh. They can make you laugh by begging you for a cheezburger, or maybe trying to fit themselves into a dollhouse. Whatever they do, LOLcats are usually pretty hilarious.
Community content is available under
CC-BY-SA
unless otherwise noted.