Line 9:
Line 9:
 

=== My Obsessions ===

 

=== My Obsessions ===

 

I am obsessed with not just cats and how funny they are, but also: ''Angelic Layer, Sonic the Hedgehog, ''online role-playing forums, and being friends with everyone (even though that's not really an obsession). [http://www.youtube.com/watch?v=9LpJuIvJJms This] is also one of my favorite YouTube videos...EVAH.

 

I am obsessed with not just cats and how funny they are, but also: ''Angelic Layer, Sonic the Hedgehog, ''online role-playing forums, and being friends with everyone (even though that's not really an obsession). [http://www.youtube.com/watch?v=9LpJuIvJJms This] is also one of my favorite YouTube videos...EVAH.

 
+
 
+
 
+
 
+

== Am I On Any Other Sites? ==

 
+

Yup, I'm on a lot of sites. I won't name them all, but there's one i really like, called ''Catgirls: The RPG.'' I've decided to highlight this one, because it has to do with cat-people. Read more [http://www.davinakayrpg.proboards.com/index.cgi here.]
---
Revision as of 21:00, 28 March 2009
Ohai! My name is Applecat, and I love LOLcats! I want to support this site with LOLcatness.My favorite LOLcat is probably Longcat. I'm a female LOLcat, and my personality is fun-loving and entergetic.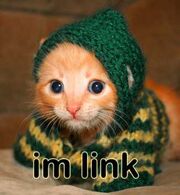 About Me and My Cat

I have been a cat fan ever since I was little. Cats have been my life, my dreams, and my hopes. I have one cat, and she's a fluffy brown-tabby Maine Coon named Linekin. She's very lazy, and loves nothing more than lying in the sun all day. She especially likes the hot weather, even though she has the longest fur ever.
And me? Well, I don't have any fur, and I don't have a tail. I sure wish I did, though.
My Obsessions
I am obsessed with not just cats and how funny they are, but also: Angelic Layer, Sonic the Hedgehog, online role-playing forums, and being friends with everyone (even though that's not really an obsession). This is also one of my favorite YouTube videos...EVAH.
Am I On Any Other Sites?
Yup, I'm on a lot of sites. I won't name them all, but there's one i really like, called Catgirls: The RPG. I've decided to highlight this one, because it has to do with cat-people. Read more here.